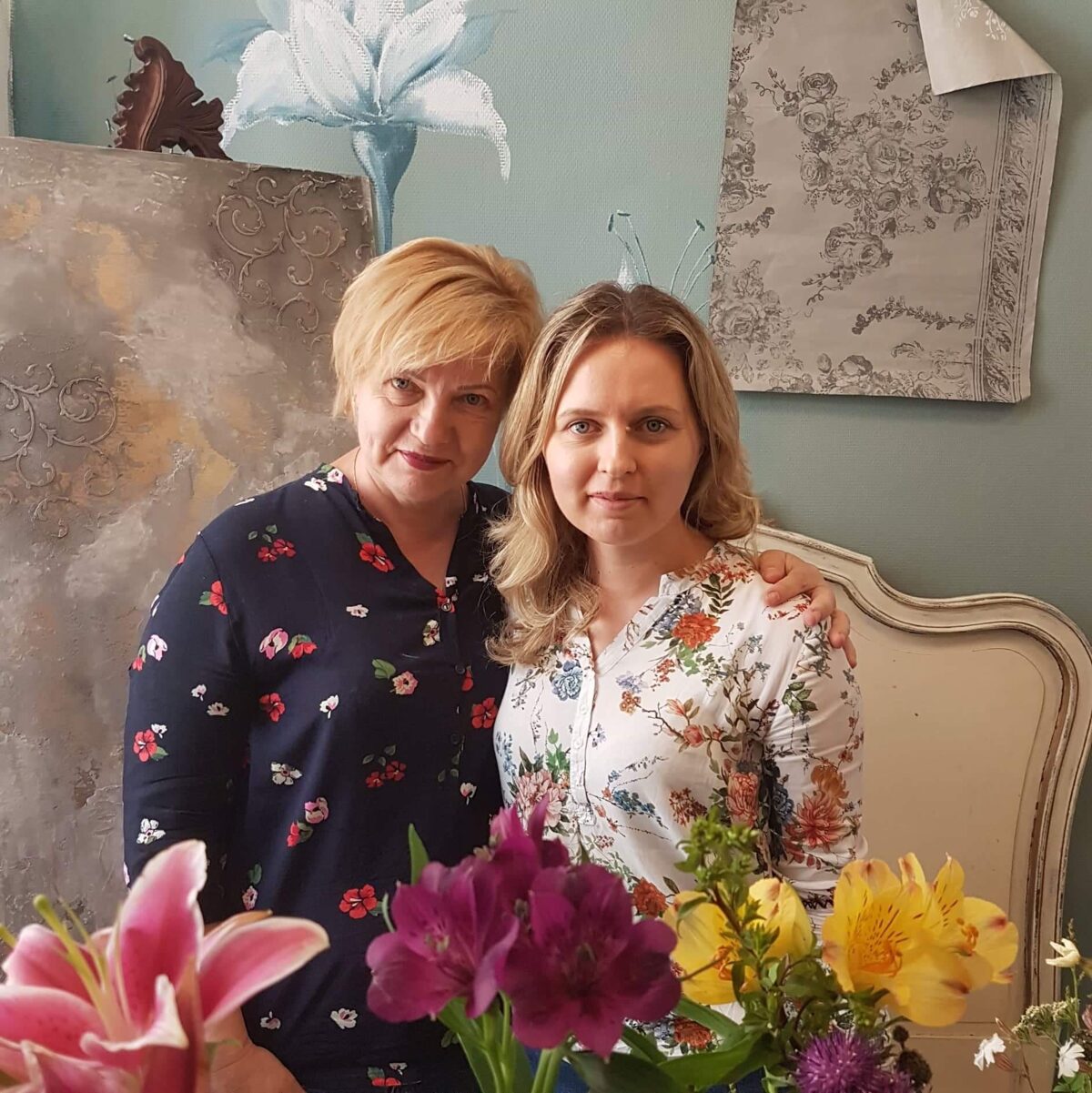 What is Hameleons?
Hameleons is a creative business run by the mother and daughter team Anita and Liene. Sometimes the youngest daughter Zinta and Liene's husband Igors join the team as well. Back in 2012 when Anita was painting on silk, she was asked to publish her work online as a requirement to participate in an art exhibition. That was when the Hameleons page was first created.
To many it might be a surprise, but yes, Hameleons stared with Anitas silk paintings. Anita has always been close to art. She is an architect by profession, she obtained a degree at the Latvia Academy of Art, and she graduated from art school when she was younger. Liene, on the other hand has enjoyed art as a hobby. She always had the urge to create and this is when Anita suggested she try decoupage. To create with decoupage, you can use the beautiful art already created and carefully glue it on to your creation of choice. She loved the simplicity of the craft and the charming outcome. This is how Liene became a part of Hameleons. Now, years later, Hameleons can say that it has long exceeded its creative expectations. After 10 years in business Anita and Liene can call themselves Decorators.
Why Hameleons (Chameleon in English)? Because just like a beautiful, colorful and always changing chameleon we adapt and adjust to every new situation, challenge and creation. Sometimes we think that we were not the ones giving our creativity a name, but the Hameleons are giving us the constantly changing creativity, and we let it happen!
In the history of Hameleons we have decoupaged and decorated things small and big, round and square, colorful and fun boxes, jars, candle holders and even a wall clock, and refurbished countless pieces of furniture. We have baked gingerbread cookies in silicon molds and started a worldwide trend online. With our creation we have participated in bachelorette parties, created gifts for weddings and handmade Christmas cards for businesses. We have also organized Christmas fundraisers where we have sold our art and donated all the money to charity. Hameleons was also invited to be a part of an American rice paper brand as a design team member. All together we have even built a workshop and a house from the ground up. Decorated it and definitely sprinkled a touch of Hameleons everywhere in the process. In years of constantly creating décor and furniture, we have learned so much that it is hard to list it all out.
For more information on what we have learned and what we can do, please visit "What we know" in this page.